Gluten-Free Pizzelle Cookies
Gluten-free pizzelle "waffle" cookies from a recipe born in Italy but proudly made in America! Simply Delizioso!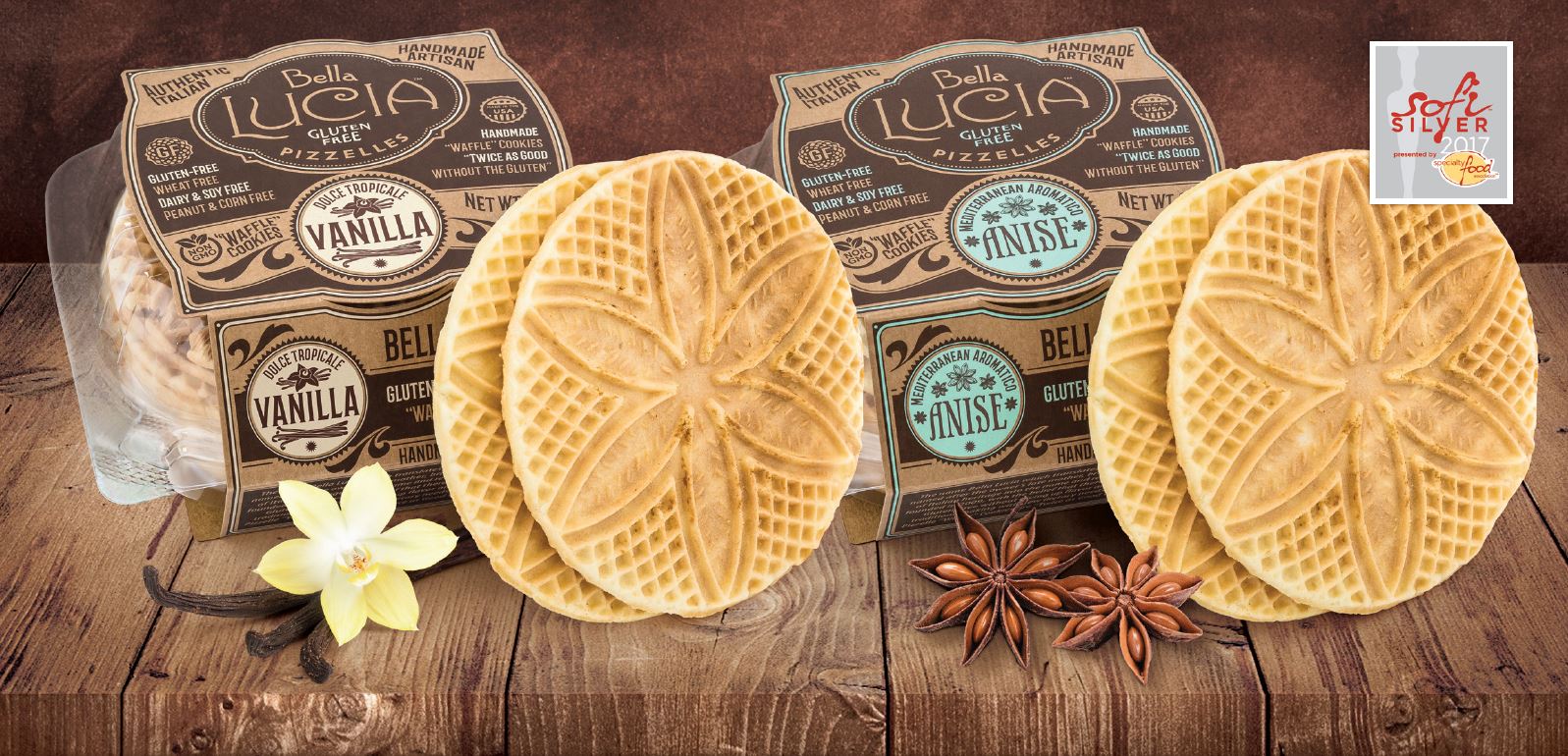 "You will never know they are gluten-free!"
"Twice as good without the gluten!"
Pizzelle (pronounced pitˈtsel-le) are traditional Italian waffle cookies originally made in Ortona, in the Abruzzo region of Southern Italy. They're light and made from flour, eggs, sugar, butter or oil and can be flavoured with vanilla, anise, anisette, lemon or even chocolate.
They're also believed to be one of the oldest cookies in the world but there's definitely nothing old about our Bella Lucia Pizzelle.
You see our Bella Lucia Pizzelle cookies are gluten-free providing the perfect snack for those living a gluten-free lifestyle but still craving the taste of a delicious pizzella cookie. Hand-made in the USA, two at a time, these pizzelle are also worry-free, because they're wheat-free, dairy-free, soy-free, peanut-free, nut-free and GMO free. A better way to eat gluten-free without giving up flavour and taste they're simply delizioso!. Our customers often state "you will never know they are gluten free".
A delicious treat that can be enjoyed on its own or dipped into coffee, tea or even an after dinner liqueur. Feeling a little more adventurous? Try topping off pizzelle with peanut butter, tahini, Nutella, pudding, yogurt, jam, preserves and more. You can even put your favourite spread between two pizzelle creating the ultimate dessert sandwich! Enjoy!
Our Vanilla Pizzelle are made with the finest vine ripened vanilla beans. The flavour is rich, dark and creamy with an irresistible sweet buttery aroma. (BELVAN)
Our 2017 Sofi Silver Award winner! Our Anise Pizzelle are made with Anise essential oil derived from the perennial herbal plant Anise or Aniseed. The Anise adds a subtle, yet refreshing licorice flavour to these award winning pizzelles. (BELANI)
Our other delicious, gluten-free and non-GMO offerings available by special order: